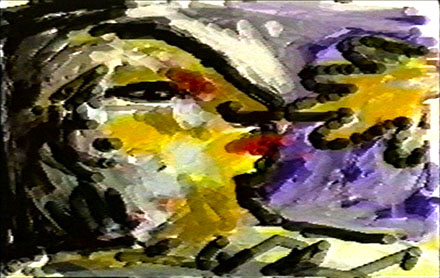 Self Portrait. Video for screening. 1985. Duration: 6 min.10 sec.,
U-matic (¾´), Pal, Color, Stereo. Self Portrait was made with the paint box of a Fairlight effect machine.

Selfportrait shows the creation of a portrait painting
starting from the white screen and progressing to a fully colored one. The soundtrack is composed of different layers reflecting a workshop that I participated in at Monte Video Amsterdam October 1985, given by Woody and Steina Vasulka.


Exhibited: 2008 - 2009 at " Moving Pictures" at The National Galley of Iceland. 1990 at "Die Islander Kommen" traveling exhibition in Germany, organized by the National Gallery of Iceland.
1988 at The National Gallery of Iceland. 1987 at "IBM" Kjarvalsstadir, Iceland. 1986 Gallerí Borg, Reykjavik; Iceland
and in In February at TV channel 2 Iceland. 1985 at Monte Video, The Netherlands,.

Co-Productio with Monte Video, Amsterdam The Netherlands.

Public Collection - National Gallery of Iceland.